Individual adviser licence
Mortgage & Equity Release Calculator
Salary & Dividend Tax Calculator
State Pension Age Calculator
Cashflow Modeller (Basic)
Defined Benefit Triage Video
Attitude to Transfer Risk Questionnaire
Individual adviser licence
Level vs Indexed Annuity Calculator
Early Retirement Calculator
Pension Drawdown Calculator
Pension Drawdown Tax Payable Calculator
Emergency Tax (Month 1) Calculator
Pension Forecast Calculator
Pension Carry Forward & Tapered Annual Allowance Calculator
Individual adviser licence
Life Insurance & Critical Illness Cover Calculator
Income Protection / PHI Calculator
Capital Gains Tax Calculator
Average Growth Calculator
Average Annualised Performance Calculator
Chargeable Gains Calculator
Individual adviser licence
Paraplanner licences included at no extra cost
With each adviser licence, you also get a paraplanner licence at no extra cost. This paraplanner has their own login details, but can view and work on your clients on your behalf.
Pricing Calculator
Includes paraplanner licence(s).
Refreshingly simple cashflow planning
CashCalc allows you to create detailed cashflow plans for your clients, in just a few minutes. The outputs are given in a refreshingly straightforward way, making it easier to understand and more engaging for your clients.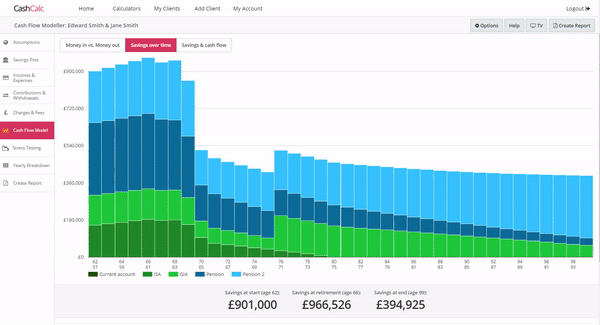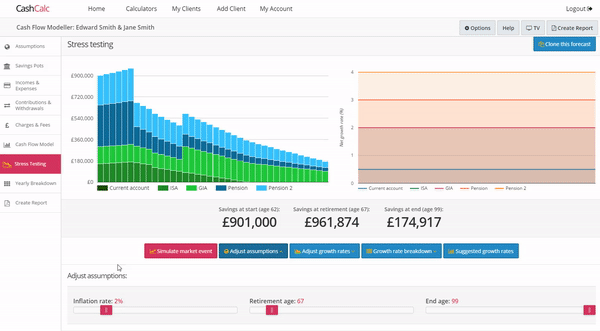 Perfect for live client demos
CashCalc has been designed with client collaboration in mind. The tools have been built so you can easily demonstrate plans to your clients and tweak their plans effortlessly.
Stress testing and what-if scenarios made easy
CashCalc is perfect for showing what-if scenarios. With our built-in stress tests and market events, you can show the effect of a market downturn on your client's portfolio in just a few clicks.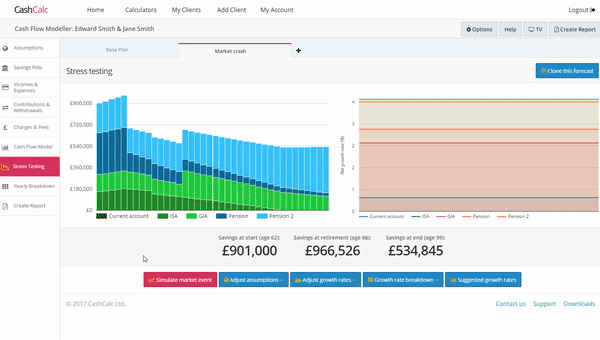 White-label all your reports
Your brand is your business. The visual system that expresses your personality and communicates your values. Get every report and every page tailored with your company logo.
What else can be done with CashCalc?